Introducing Nymphaea
A notable proportion of term and preterm infants develop neonatal jaundice. Jaundice in an otherwise healthy term infant is the most common reason for readmission to hospital. Jaundice is caused by an increase in serum bilirubin levels, largely as a result of breakdown of red blood cells. The liver converts bilirubin into a conjugated form which is excreted in the bile. Very high levels of un-conjugated bilirubin are neurotoxic. Phototherapy is a simple and effective way to reduce the bilirubin level.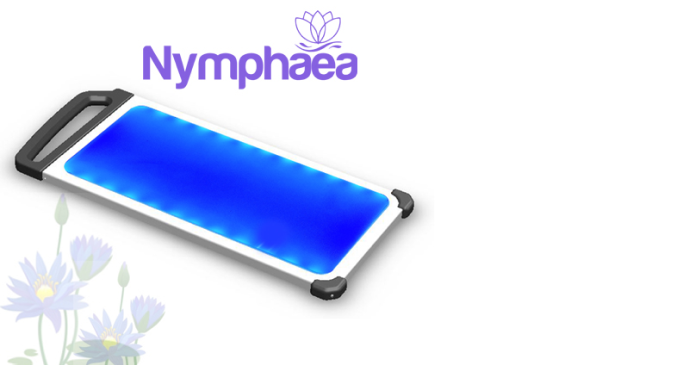 Depending on the severity of jaundice, phototherapy is administered from a single side or from both the sides to the baby. Overhead phototherapy units mounted on a stand are generally used to administer phototherapy from a single side.
Double surface phototherapy units currently available in the market are fixed to a warmer or bassinet. They do not provide us the leverage of swapping it to another equipment. Babies need to be shifted to an equipment dedicated to double surface phototherapy. We have designed a compact blue LED phototherapy which can be used in conjunction with any warmer, bassinet and incubator. Thus providing the staff the ease of providing phototherapy to a baby without having to shift it to a particular warmer or bassinet.
Nymphaea is sleek and light weight (<4Kg) and can be handled effortlessly by staff. The unit is flexible and harmonises into the neonatal work space. Phototherapy can be administered without hindrance to respiratory and warming therapies. It offers effective treatment with an efficient surface area coverage. The unit is suitable for term and pre-term babies. Nymphaea can be easily stored in a drawer or cup board. The surface is smooth without grooves and easy to clean. Infection control is vital in a NICU considering which there is no fan in the unit. The power consumption is minimal at 15W reducing the operation cost of the equipment. Nymphaea can be used with a water mattress or gel mattress.
For more details write to: marketing@pmsind.com